All Rides Take Place 100% In The Bridger-Teton National Forest
Full Day Fishing Ride: $385

Willow Creek full day fishing ride.  we take your horseback riding party on a fun filled d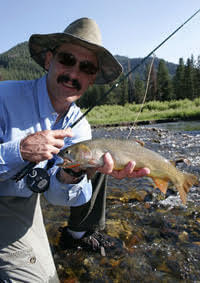 ay of fishing on Willow Creek, the only way in is to walk or take a horse,  this is way back in Willow creek you have whole creek to your self. we will have a guild with you showing you the good spots to fish.  Lunch is in eluded and we will have all your gear,  don't forget to bring your fishing license.  People come back from this ride with smiles from ear to ear.
NOTE: A current Wyoming fishing license is required to be in your possession at all times.
Full Day Wilderness Ride: $385

The Willow Creek Wilderness full day ride is designed for those who are really looking for an adventure back in the remote wilderness.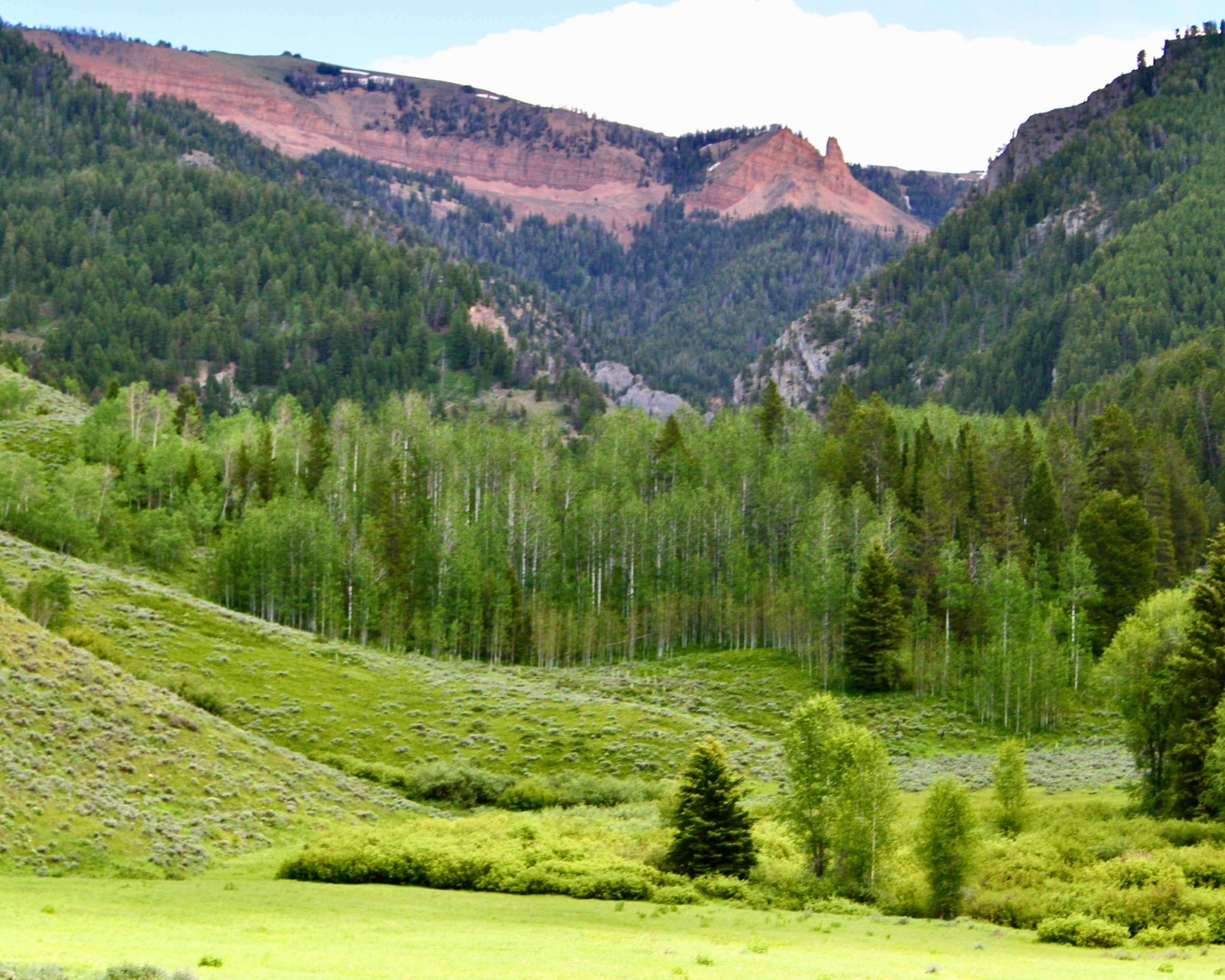 The ride begins with a ride to the top of Ann's Ridge before continuing through the Bridger-Teton National Forest, and eventually down into Willow Creek itself, you will ride through areas only very rarely visited by humans. This is wildlife country!
If you have the time and are looking for a once-in-a-lifetime, bucket-list kind of ride, this one is for you!
Willow Creek's Signature 1/2 Day Ride: $285
Willow Creek's Signature 1/2 Day Lunch Rides will provide you with a complete horseback riding experience, with lunch included. Starting out with a ride past Ann's Pond and continuing over Ann's Ridge, the reward at the top is a 360 degree view of the valley and the Teton mountain range.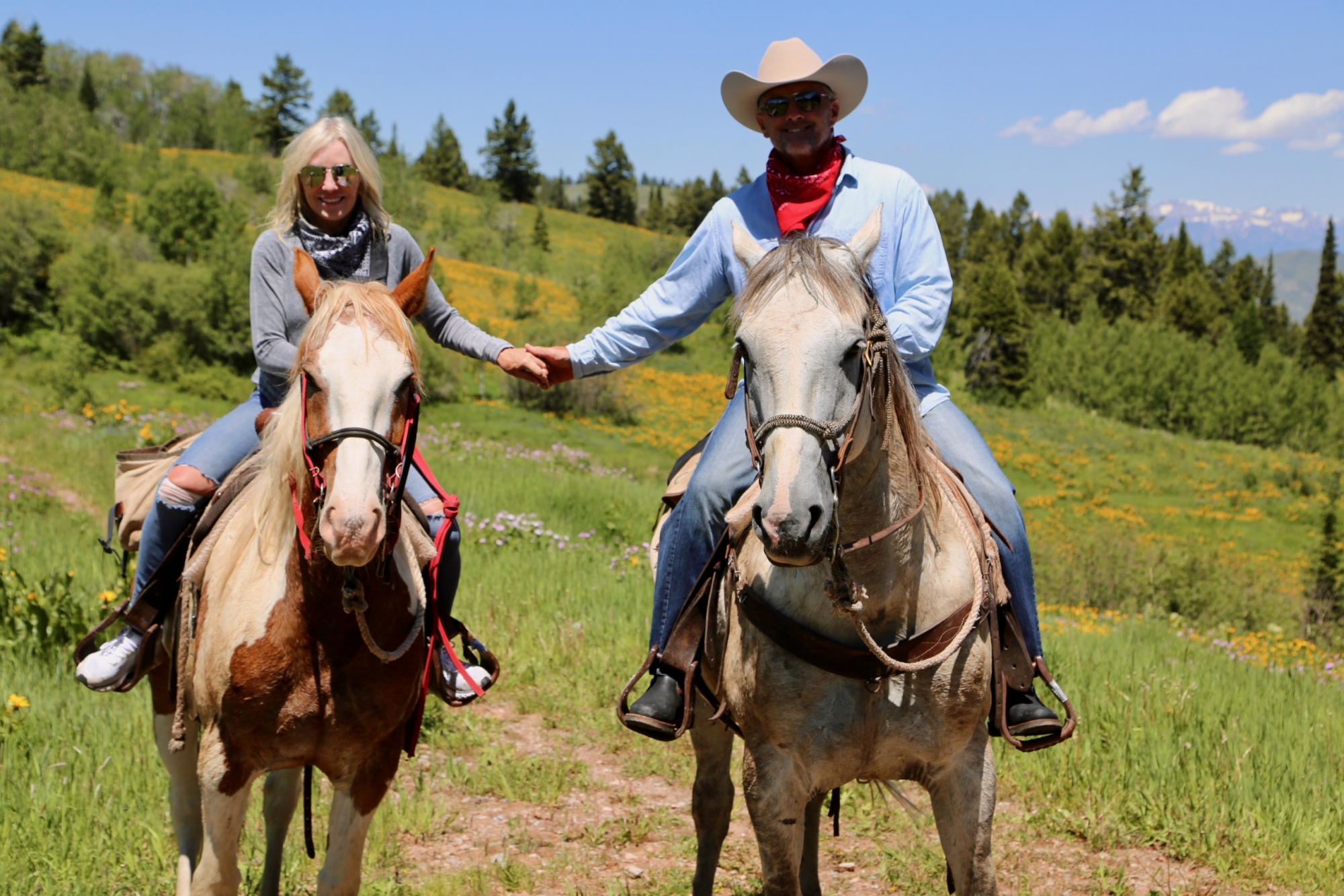 After taking in the views, we continue down to Willow Creek,  riding parallel the water (crossing the creek 4 times when conditions permit), bringing us to our lunch spot. As all of our horseback rides are loops, the return to the ranch offers more unique wildlife viewing and scenery than any other.
2 1/2 Hour Breakfast or Lunch Teton View Ride: $185
On our Ann's Ridge View Breakfast and Lunch rides we start our climb up to Ann's Pond where we can often see moose having a drink, then we climb up to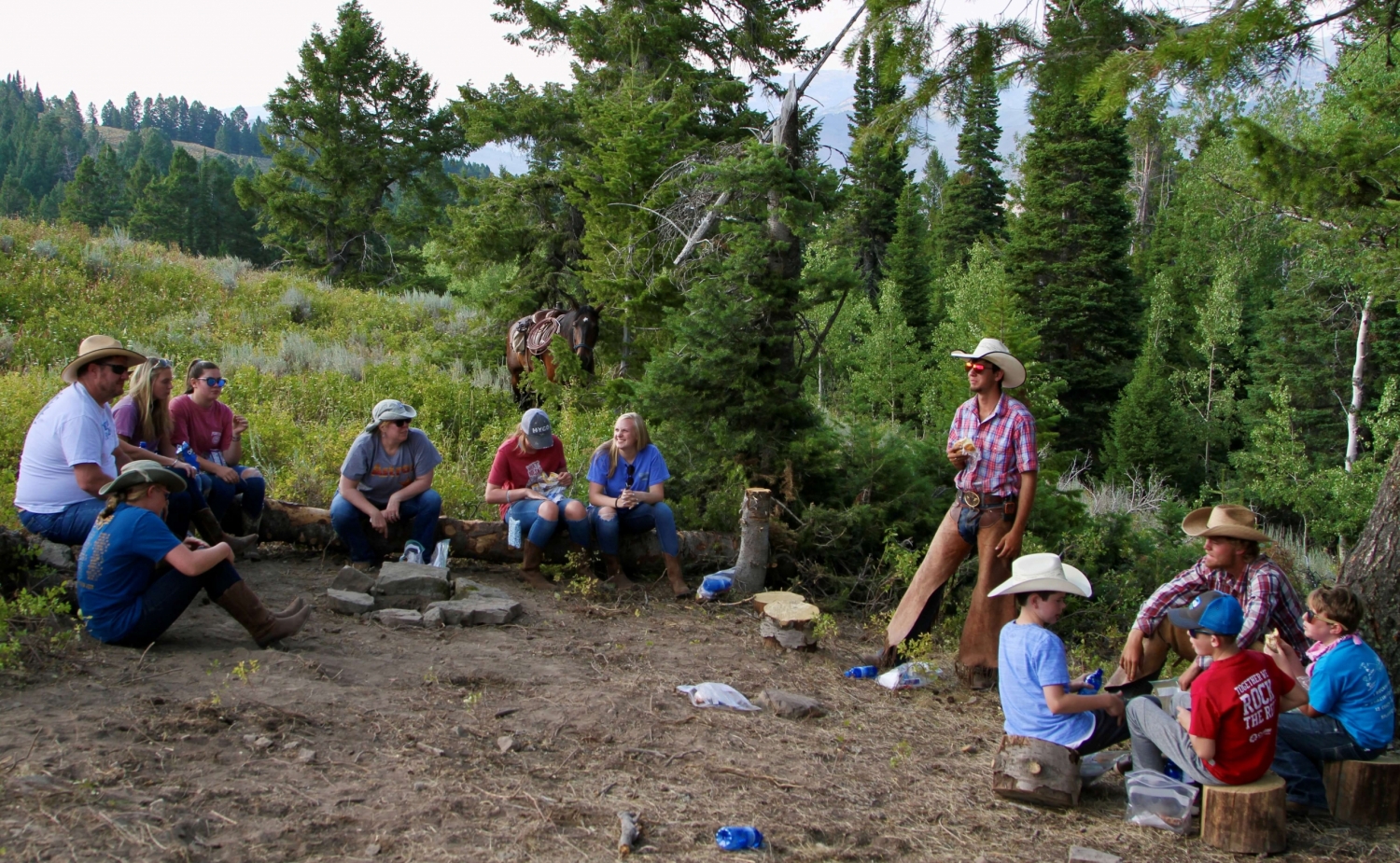 Ann's Ridge where we have breakfast or lunch, stretch your legs and take in the spectacular 360 views.  We continue on Ann's Ridge Loop and back to Willow Creek headquarters.
2 Hour Ann's Ridge Loop Ride: $165
Ann's Ridge Ride is nothing less than a breathing horseback riding experience.  We start with a ride past Ann's Pond, pausing see if there are moose are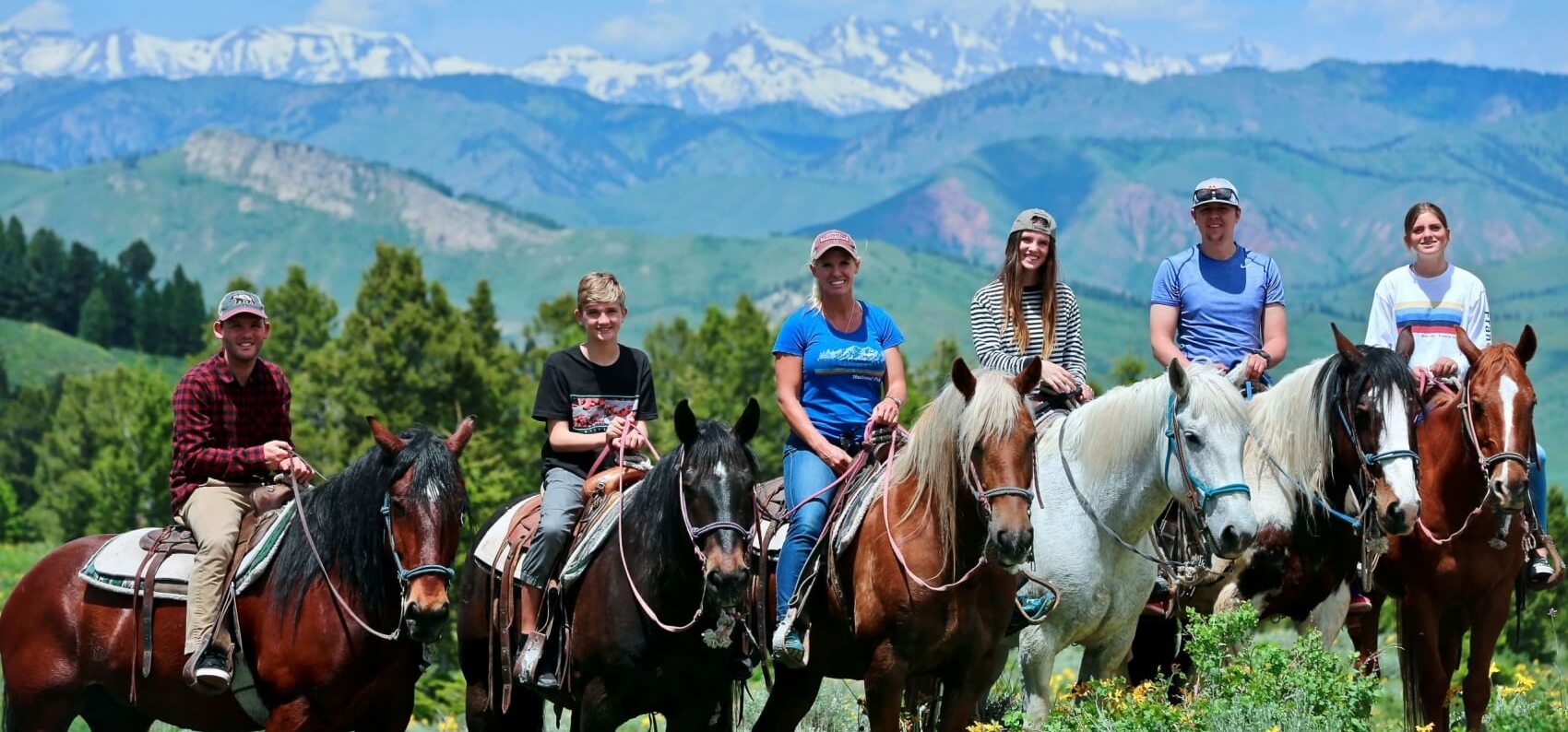 nearby,  then climbing to the top of Ann's Ridge. A forest of aspens and pines along the way lead to wildflowers in the meadows atop the ridge, with specatacular views of the Tetons in the distance.
1 Hour Ann's Pond Loop Ride: $145
Ann's Pond Loop Ride is a nice short ride through the aspens and pine trees.  Many of Wyoming wild flowers can be seen on this ride. We stop and rest our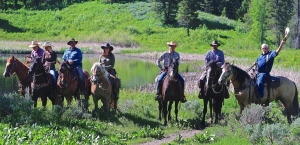 horses at Ann's Pond where the local moose stop often to take a drink.
Weekly 2 1/2 Hour "Jim Bridger Experience" Lunch Ride (Saturdays at 2 PM): $285
New This Season!
Willow Creek Horseback Rides proudly presents the Jim Bridger Experience. Step back in time to the mid-1850's Old West where you'll run into Jim Bridger on the trail. He'll join our group to lead a guided tour through the Bridger-Teton wilderness, telling of his experiences and the history of the area where you ride.  Learn about the wild animals you might come across along the way, and watch out for a chance encounter with Shoshone Indians.
This ride includes lunch and takes between 2 1/2 – 3 hours.  Availability is limited – book early!
"Paddle to Saddle" Combo Package: Get 10% Off Both Activities!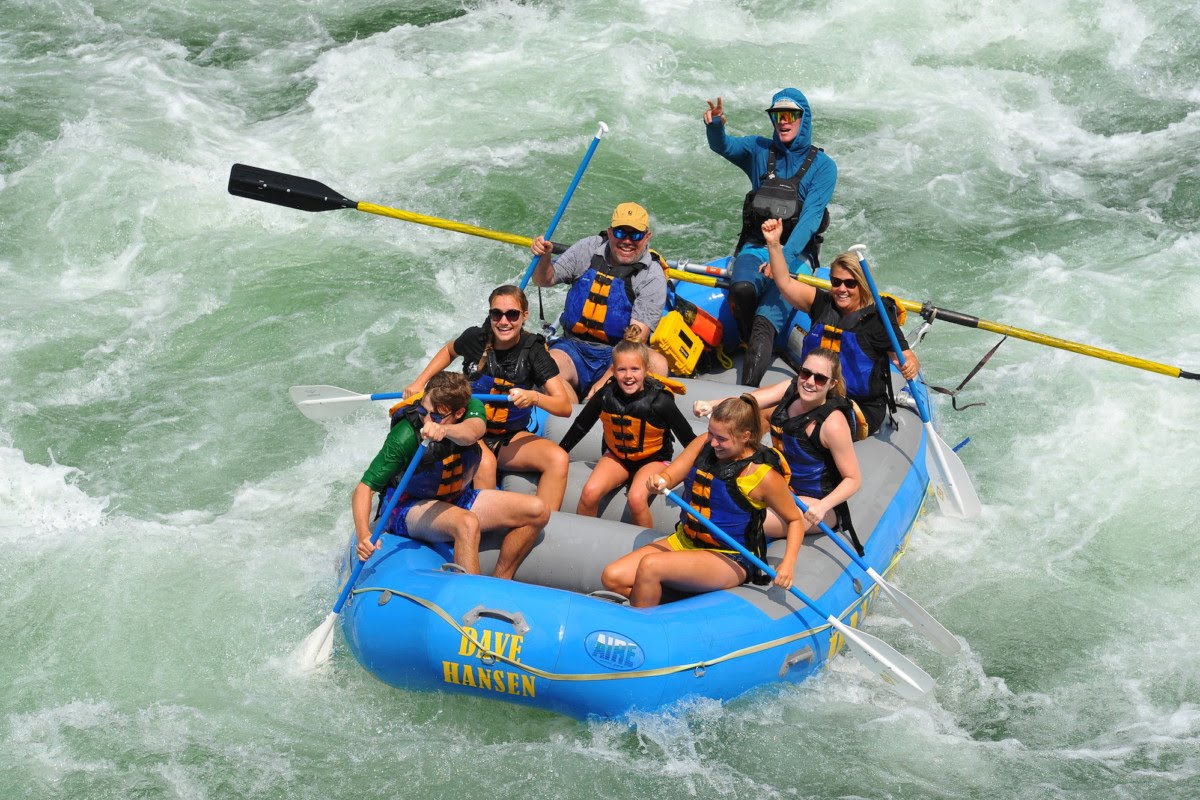 Your trip to Jackson Hole wouldn't be complete without experiencing whitewater rafting or a scenic float down the Snake River. Willow Creek Horseback Rides has teamed up with Dave Hansen Whitewater to provide you with this complete "Paddle to Saddle" adventure:
Choose from any horseback riding option above, plus any Dave Hansen Whitewater rafting option (see davehansenwhitewater.com/raftingpackages)
Activities may be split between two days, although many enjoy a morning ride and an afternoon river rafting trip.
Dave Hansen River Trips provides shuttle service to the river from their shop at 255 W. Broadway in Jackson as well as their south office, Snake River Park KOA.
These activities are booked and billed separately. After choosing your horseback ride option at the discounted rate, contact Dave Hansen Whitewater at 307-733-6295 to book your rafting trip. Be sure to mention "Paddle to Saddle" to receive 10% off.
In Addition To Riding With Us, Consider Experiencing Goat Yoga With Our Neighbors at Willow Bend Ranch!
If Goat Yoga is on your bucket list, there's no better place to earn that checkmark than in Jackson Hole, surrounded by the breathtaking views of Beaver Mountain with the Bridger-Teton National Forest all around you.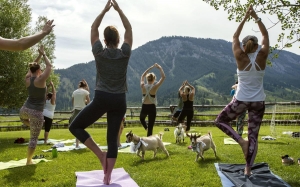 Goats are incredibly friendly animals that by nature LOVE interacting with people.  The herd at Willow Bend includes nine adorable pygmy goats, including a newborn who will be meeting guests for the first time this summer.  These goats are eager to "help" guests perform yoga poses that have been proven to relieve the stress and anxiety that we all hope to leave behind us.