All Pack Trips Take Place 100% In The Bridger-Teton National Forest and Gros Ventre Forest
(Departure trailhead located approximately 20 miles from downtown Jackson Hole, Wyoming)
Jackson Hole Horseback Camping & Fishing Pack Trips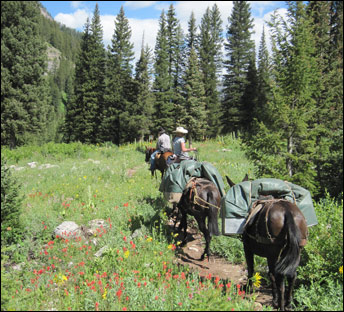 Our pack trips include the whole western experience of camping outdoors in tents, eating home cooked western meals prepared over a campfire, riding horses, and fishing Wyoming's high mountain streams for trout.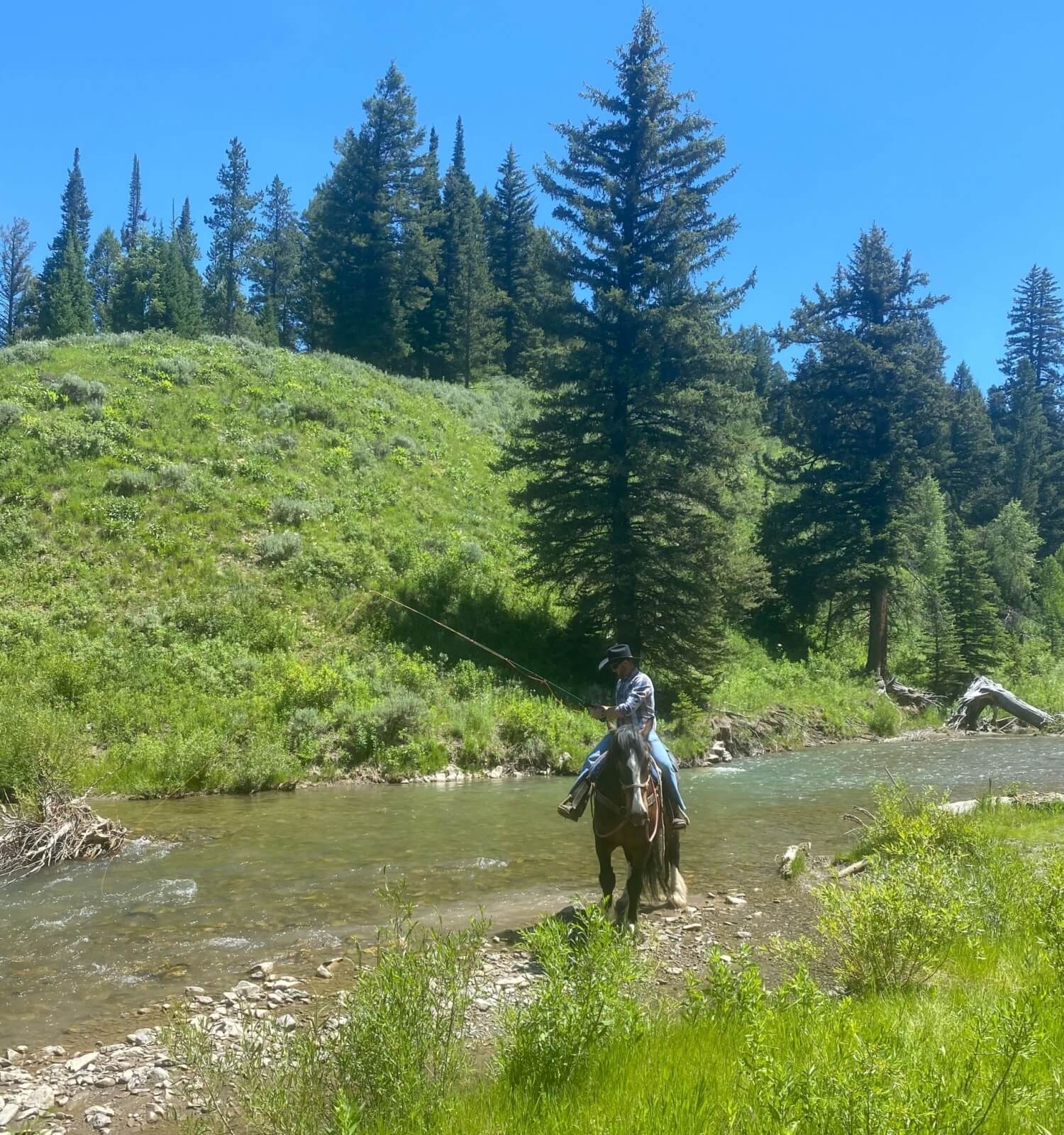 While you're here enjoy the beautiful mountain scenery, take a hike through lush meadows, see wildlife in their natural habitat, and bring a camera to photograph the beauties you find.   You can't beat Western Wyoming and Jackson Hole for horseback riding, trail riding, fishing trips, sightseeing, and photography!   Come and enjoy the breathtaking mountains of Western Wyoming with us.
Full Day Fishing Ride: $895 Per Person
W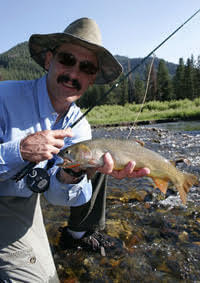 e'll take your horseback riding party on a fun-filled day of fishing on Willow Creek. The only way in is to walk or go on horseback which makes access difficult,  so we usually have entire fishing area to ourselves. Your guide will show you the best fishing holes and let you know what they're biting on.
Lunch is included and if needed, we can supply all the required fishing gear.
NOTE: A current Wyoming fishing license is required to be in your possession at all times.
Book Now
2 Days/1 Night: $1,295 Per Person
Itinerary:
9 AM: Check-in
10:30 AM: Depart trailhead on horseback for base camp. During this 3 hour ride expect to see…
Lunch at Base Camp
Afternoon: Fish in the nearby stream or just relax and take in the scenery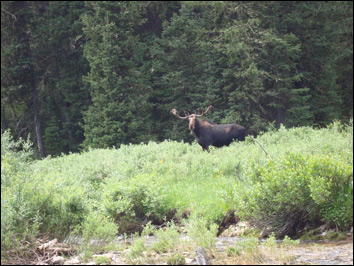 that can only be had in the backcountry of Wyoming. And don't worry, you don't have to catch your dinner (but if  you'd like, we'd be happy to cook it for you).
Dinner: Home-cooked supper with all the fixens!
Morning: Early fishing if you'd like, then enjoy a leisurely guided horseback ride to view the local wildlife: mule deer, elk, moose, and big horn sheep to name a few.
Noon: Depart base camp. Optionally stop at Granite Hot Springs for a soak in the natural hot springs pool (based on availabilty…cost, time?)
3 PM Return to the trailhead
3 Days/2 Nights: $1,895 Per Person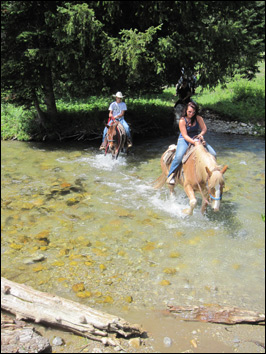 This trip is for the person wanting to see what the backcountry of Wyoming has to offer.   We start the trip at the Granite Creek Trailhead and ride to our Granite base camp 3 hours up the trail.   After we arrive at camp you can enjoy fishing the nearby stream, taking a hike, go for a horseback ride to view wildlife, or just relax and enjoy the quite solitude of the wilderness.  Day two can be spent relaxing and doing activities around the Granite Camp, riding to one of the high mountain lakes in the area, or fishing.  On this trip prepare to see some awesome mountain views and breathtaking scenery.  An experience of a lifetime!
What's Included?
Above prices include food, horse and tack, all camping equipment, (sleeping bags can be provided), fishing gear if needed, guide, and cook.   There is a minimum of 2 people per trip.   The maximum number of guests is 10.   Pick up and drop off in Jackson can be arranged.   Our staff is very friendly and professional.   We are a family run business and your satisfaction is our guarantee.
-Longer trips can also be arranged – contact us to discuss and coordinate.
-Trips begin July 1 and go through August 25. Trips are taken 6 days a week, Monday thru Saturday. Depending on the spring temperatures we may be able to begin trips sooner.
-Meals are hearty western style with full fixn's. A traditional breakfast is served each morning and a full course supper at evening.   Sack lunches are provided for the day's activities.   Let us know of any special diet requests and we will accommodate the best we can.   Base camps are first class and provided with wall tents, 1-2 people per tent, cots, mattresses, lanterns, lawn chair, and small table in each tent.   We do have a family wall tent that sleeps 5.
NOTICE:
Willow Creek Horseback Rides and Trophy Mountain Outfitters are permittees of the BTNF and are proud to be equal opportunity service providers. Licensed by the Wyoming Board of Outfitters and Professional Guides, License# BG114.